Syorinzan Darumaji is a Zen Buddhist temple located just outside of the city of Takasaki in Gunma prefecture. The temple derives it's name after the Zen Partriarch, Daruma. Daruma is the Japanese pronunciation of Bhodidharma who is a renowned cultural and religious figure well known for bringing the teachings of Zen (pronounced Chan in Chinese) to China from India during the 5th or 6th century.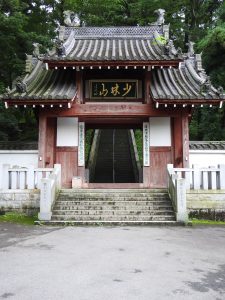 Syorinzan temple is of the Obaku denomination of Rinzai Zen. Obaku is a version of Rinzai that came several hundreds years later to Japan after Rinzai had already been established. It is the 3rd largest sect of Zen in Japan though often it is considered part of the Rinzai school. Obaku has retained more of it's Chinese heritage and customs than it's sister school the Japanese Rinsai sect. The largest sect of Zen in Japan is the Soto shu.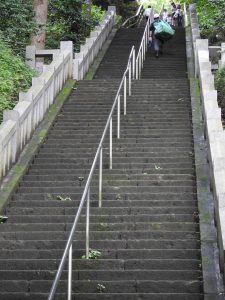 Fuku-Daruma, better known as the daruma doll. is considered a good luck charm. During new years season it is often purchased to bring good luck during the upcoming year. The Fuku-Daruma originated at the Syorinzan temple. The founder of this temple, Shinetsu began the custom of giving the local farmers pictures of Bodhidharma that he would paint with a single brushstroke. Several centuries later the tradition of crafting wooden images based on the brush paintings evolved. Eventually the local craftsmen started making these dolls for sale.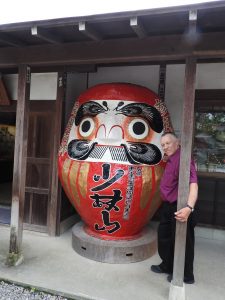 Cho zu or Water purification is an essential part of any Buddhist temple or Shinto Shrine visit. There will be a stone reservoir  of cold clear water usually near the entry way.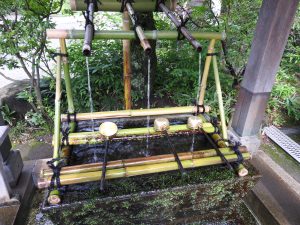 The custom is to take one of the ladles and dip it into the water first washing the left hand and then the right.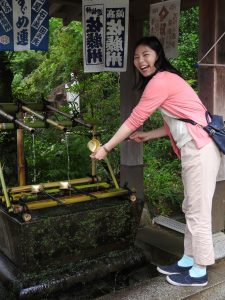 Last take another ladle of water and drink from it. Now one has been cleansed of worldly impurities and you are ready to enter the temple.